Why are we the best choice for you?
1. place
Located in the southeast corner of Chetwynd Town, near Highway 97. On the main road, near the Days Inn.
2. Top Fast Network:
An RV park that includes Musk's Starlink satellite broadband network. Willing to provide more advanced high-speed Internet services all the time
3. Zero defect management system: carefully formulate zero defect management and happy service standards and systems. Especially a comprehensive inspection of a happy environment such as cleanliness, health and safety; we look forward to serving you better.
4. Infrastructure: In addition to the rich facilities currently provided, we will always pursue the best living experience.
5. Long history: The company has a history of more than 20 years. Many management talents, technical experts and colleagues are on call at any time to create a beautiful home for you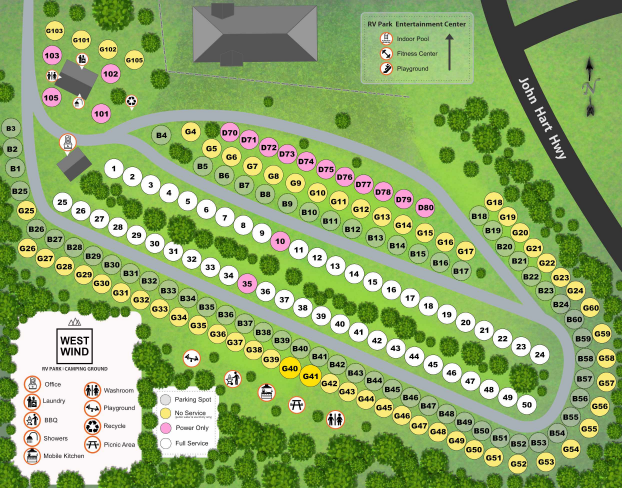 30 Amp and 50 Amp Power Supplies

All Sites are Pull Thru

Grass area for Tents

City Water and Sewer Supply

Sani-Dump Station

Picnic Table at Sites

Fire Pits

Coin Laundry
Shower and Washroom Facilities

Free Excellent High-speed Wifi

Cellphone Service

Pet Friendly

Indoor swimming pool

Fitness center

Sauna tub

Children's playground
Note:  Additional high-quality services will be coming soon.
In our website, you can:
1. Make one-to-one reservation of parking spaces, lock the best price during the peak season;
2. Obtains all tourism related information: shopping, camping, catering, medical care, rental, RV maintenance, IT information services such as Big Data, etc.
3. Obtains fishing, barbecue, picking, rock climbing, grass skiing, RV sports activities and other information guidance and related services.